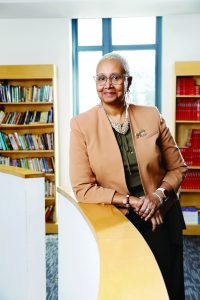 For 154 years Howard University has worked diligently to eliminate educational inequities related to race, color, social, economic, and political circumstances. This work became more important this past year as communities of color disproportionately suffered from the pandemics of racism, violence, homelessness, food insecurity and COVID-19 and its variants.  Being the only HBCU to host a public charter middle school on campus is a demonstration of. our school's founders understanding of the importance of creating a pipeline to STEM careers for adolescents. The vision was realized in 2016 with the first Howard University STEM graduates who had completed middle school at (MS)2. Our mission and vision are still relevant to our community and our work must continue.
This was a challenging year for (MS)2. While we experienced many successes our school family suffered some personal losses as well. But we continue to implement research-based programs and move towards the common goal of student growth and success. Our partnership with Howard University provides our staff and students with a unique opportunity to participate in college-level research, to collaborate with Howard faculty and students, and utilize the university facilities to supplement and add additional rigor to our curriculum.
We believe in the success of all our students, and we recognize that success looks different for each one. (MS)2 is a place where asking the right questions is more important than providing the right answers. Every stakeholder at (MS)2 must agree that we will do whatever it takes to ensure that every young person that enters our school is given every opportunity to achieve their personal goals at their own pace. The work we do is not easy. We are, however, committed to be the best possible educators and supporters of our students  and their families, and we will continue to learn from our missteps and make the appropriate adjustments as we educate and prepare our children for the future.