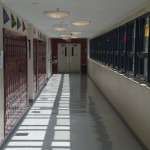 Dear Parents/Guardians,
Welcome to Howard University Middle School of Mathematics and Science (MS)2 website.
Upon entering the doors at (MS)2 you will immediately feel our sense of pride and strong belief that all children can achieve great things. Our staff is dedicated to ensuring each child is academically prepared, within an environment that is safe and orderly each and every day.
Our school community strives to instill in each child the excitement that comes with learning, where the expectations are high and academics are aligned to the Common Core Standards. Here at (MS)2 our academic approach is focused on Science, Technology, Engineering and Mathematics (STEM). The goal of our staff is to integrate STEM cohesively into our curriculum so that students are able to apply those skills to real-world applications.
The core values of (MS)2 are respect, leadership, service, integrity and care; these are the ethics that we expect our students to uphold on and off campus at all times. The culture we are building will emphasize these values and we trust will be embedded in your son our daughter well beyond their time with us. It is our goal to build strong future leaders of the world.
Communication is the key to a successful educational experience. Together, we will continue to improve the quality of our school community and provide the best for the scholars of (MS)2. Education is a partnership between the school, students, parents/guardians, and community. We treasure the opportunity to work in partnership with you to see that your child has a positive experience at (MS)2.
We are committed to providing a safe and orderly environment with a curriculum that demands academic excellence, encourages positive self-esteem, and promotes responsible citizenship. Please feel free to contact the school for any reason. We thank you in advance for your support and partnership in your child's education. We hope to see you soon.
Thank you for visiting our website!
Sincerely,
Corbet O. Houston
Assistant Principal
Lee E. Vason, Jr., MSW
Dean of Students