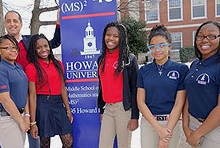 (MS)2 Students in the Innovative App Challenge
It doesn't take much to get kids to play with technology. And even when you ask kids to solve local social issues using technology, you'll get over 1,000 ideas.
Those ideas are coming from middle and high school students competing in the second Innovative App Challenge run by Verizon and the Technology Student Association. And yes, over 1,300 entries were submitted. They were narrowed down to 81 for the first "Best In State" round. After the "Best in Region" round, the final eight will be announced Feb. 19. This all-girl team from Howard University Middle School is one of five DC area teams going to the second round. The girls developed a Build Central app that helps users construct items using a mobile device.
One of last year's winners was this group from South River High School in Edgewater, Md., which developed the Study Buddy app, now selling in the Google Play Store. It helps students stop procrastinating by organizing notes and preparing for assignments, test, and exams. (Can adults use this in the real world?) The teams that move to the second round will get a $5,000 grant for their schools, and the faculty advisors of those winning teams, along with two colleagues, get to take an online MIT course on teaching app creation. The Best in Nation winners will get an extra $15k for a STEM program at their school, a Samsung tablet, and onsite access to MIT's Media Lab Center for Mobile Learning. Verizon will also help the winners get their apps ready for distribution.