HU MS2 – Global Partnership
sHU MS2 – Global Partnership
In the summer of 2016 the front desk called me and said we had visitors from South Africa. I quickly checked my calendar and was immediately confused because there were no visitors scheduled for that day. When I came down stairs, I was greeted by Jacob Ngakane, his wife Glancinah and Dr. Marsha Abedayo. Dr. Abedayo explained that the Ngakanes were visiting from Johannesburg and wanted to tour Howard University, where Nelson Mandela received his law degree.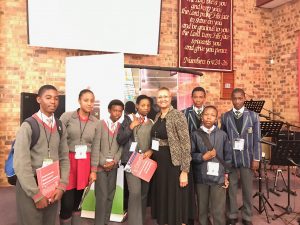 I naturally started talking about our middle school and what we were doing for children in DC with respect to mathematics and science. As I described our program, I watched Mr. and Mrs. Ngakane's expressions change and their eyes light up. Jacob began to talk about the struggles that children in Johannesburg were having with mathematics. He said that in the 10th grade, students have the option to take a something called math literacy which is equivalent to general mathematics. Jacob said that their students were not being appropriately prepared for the 21st century workforce and are subsequently relegated to low paying jobs if they are able to get a job at all. Glancinah Ngakane is the head of the mathematics department (HOD) at the Hill High School in Johannesburg and she picked up the story from her husband. Glancinah said that math literacy was a course that was developed to address the struggling math students. She said that a disproportionate number of black students were taking math literacy and as a result their country was unable to produce engineers, scientist, technologists or other professionals in STEM who were black. The Howard University Middle School was founded with a mission develop young people who are interested in STEM careers, through a curricular focus in mathematics and science.
And the partnership was born…..
The Ngakanes and I realized that there were synergies between the needs of the students in Johannesburg and the students in the District of Columbia. We strategized about a partnership where teachers in South Africa and teachers at the Howard University Middle School would collaborate on instructional strategies and our students would interact with each other and solve problems and share ideas. Several months later Sheppard Skills & Education Academy (born at the St. Paul's United Church in Johannesburg) and the Howard University Middle School of Mathematics and Science embarked on a journey to support black children in the Johannesburg and the United States in becoming the next 21st century mathematicians, scientist, engineers and information technology professionals.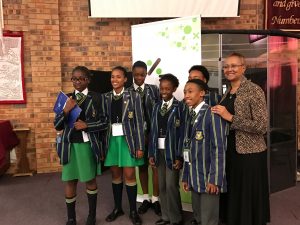 We kicked off the program on February 25th at the St. Paul's United Church in Johannesburg. The program introduced the rationale and the necessity of the program. Children from the seven partner schools spoke about their excitement at having an opportunity to explore advanced mathematics and to collaborate with children in the United States. I had an opportunity to speak about how proud we were at Howard University Middle School to be a part of this program.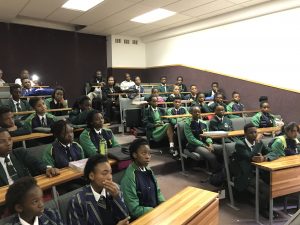 For the next three days, we visited the partner schools. The schools ranged from those with limited resources to schools with computer labs. Some schools had worn out wooden desks and chalk boards. Meals were cooked in a narrow outside trailer. In other schools, grounds were manicured, classrooms were more modern. The disparities in school resources are a result of the differences in financial support from different provinces in South Africa. In many cases, students walked long distances from shanty towns in Soweto to school
Even though the schools differed in their resources they all had one thing in common. Every child that we talked to about the program was encouraged, and excited about the possibility of being a part of something that would revolutionize their lives. At every school, the students were anxious for a chance to work together with their staff members and to collaborate with their peers in the United States. The principals and teachers were equally committed to working outside of their regular day to help students access mathematics on a higher level.
The program kicked off on March 24th at seven Johannesburg schools with students forming clubs. Each club would consist of 4 – 6 students. Each club will compete against each other by completing a series of exams. The top clubs at each school will compete against other schools. The goal is that the top club will travel to the United States to participate in a mathematics and science symposium with students from Howard University.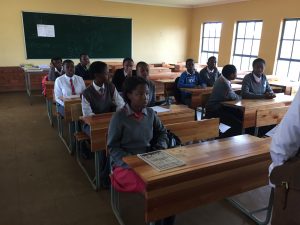 Here in Washington DC, the Howard University Middle School is partnering with the Kelly Miller Middle School. Each school will create three teams of 7th grade students. The kickoff meeting will include a meet and greet for the students, participation in hands on math games and activities. In the fall, these clubs will compete using the same exams as the students in Johannesburg. The winning clubs will compete against their Johannesburg counterparts.
Teachers in Johannesburg and at Howard University Middle School will collaborate via Skype and Google Hangouts to share instructional practices for helping students understand Algebra and its concepts.
Jacob Ngakane was a student during the Soweto student uprising and he was arrested and brutalized during the protests against Apartheid. His commitment to equal access for all students to education is unparalleled. I am so proud that our school is a part of this global movement to provide equity in mathematics education to marginalized students.
For more information about our global partnership Contact Us here.